Throughout the entire process, we ensure we keep our clients up to date with our progress, and collaboratively we work on the aesthetic and structure of the design and practical steps to bring a dream swimpond to life.
Nothing happens without our clients' say so!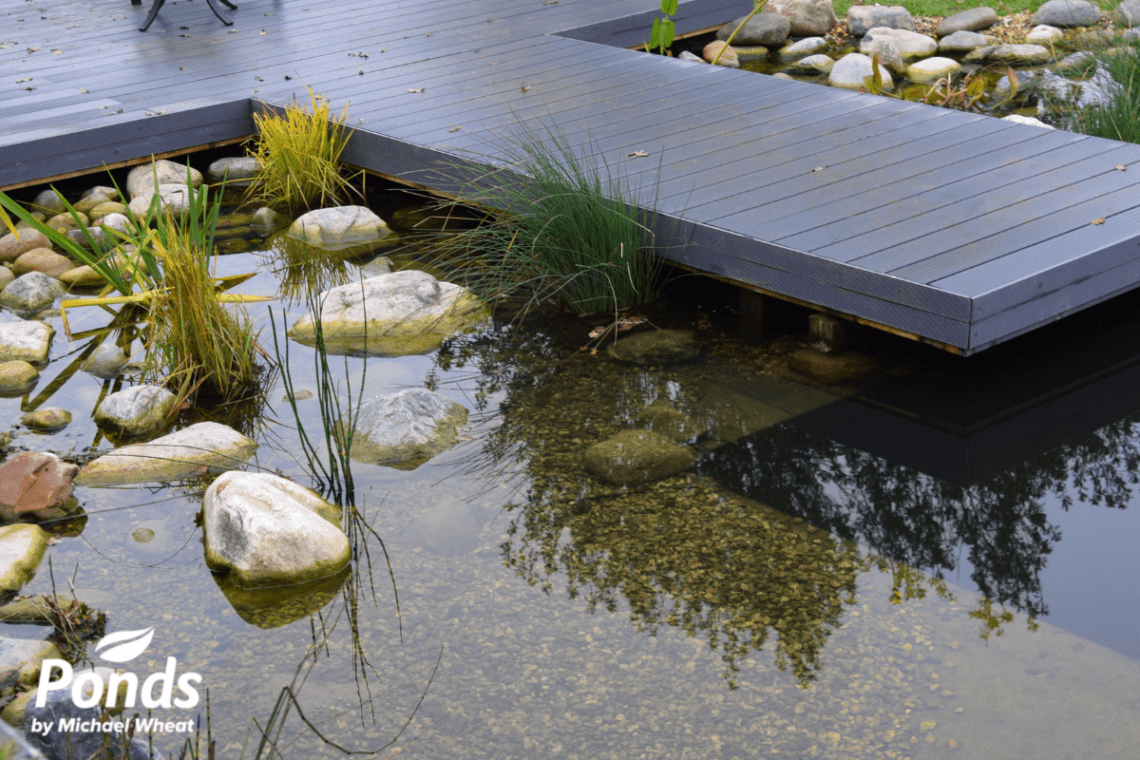 Step 1:
You make a phone call to Ponds by Michael Wheat, where our Head of Sales and Marketing, Tori, will discuss the design brief with you. She will also answer questions about project timescale (which will vary depending on the time of year) and investment level.
Tori will request you to send some images of your outdoor space to our team to progress your pond build.
Step 2:
We arrange and hold a call to discuss your site-specific design possibilities.
All possibilities form a discussion between the Ponds by Michael Wheat team and you. This will come after receiving your images or video from site. We will discuss how to bring to life your dream pond, run through the considerations like drainage, plants, filters, material finish, design style, size and of course the likely cost to build.
Step 3:
You commission a design plan.
Step 4:
Design consultation will take place at home with your dedicated consultant.
Here, you will discuss the options and details of your pond build, discuss your budget and any thoughts you have about any features you'd like to include in your new design.
Step 5:
We undertake a site survey.
At site we will assess its readiness to begin work. Here, there will be a discussion about how we can get the team to your location. We assess the site layout with a datum point and use a lazar to map out your site levels. We assess the ground drainage and soil composition, discuss different possible locations and orientation of the pond. We assess and note the location of services in case any pipes or wires need to be relocated. You are also encouraged to ask questions.
Step 6:
Our design team at head office begin work of drafts of concepts for the 3D rendered CAD design work as well as rough costingson the installation of you project.
Here, with your approval, we will sign off these designs and complete a final detailed costing and then complete all 2D technical drawings.
Step 7:
We will arrange and hold a proposal presentation.
You will see the final design of your new SwimPond; you will be aware of the exact final cost and all the finer details regarding how and when your work will begin. (The rectifying of any last-minute discrepancies will happen during this meeting.)
Step 8:
A pre-installation site visit will happen by your project manager preparing for the beginning of the installation. Here we make provisions for staff facilities whilst in your garden, discuss the delivery of materials and plant hire and run through the schedule of work and RAMS for health and safety.
Step 9:
The installation begins with our on-site team coming to your property.,
Throughout the entire installation process, regular checks from the project manager will occur. You will have a team leader on site leading the same team throughout the project. The client is also encouraged to ask questions, and the team in the office will be available if there are any further enquiries. We keep the same team of people on your project until it is complete.
Step 10:
Following the sign off from our project manager, they will pass on the project to our Aftercare team.
Following the end of your project, an option for maintenance will be made available.
There will be a complimentary check up and filter maintenance visit 1 month after the works are complete