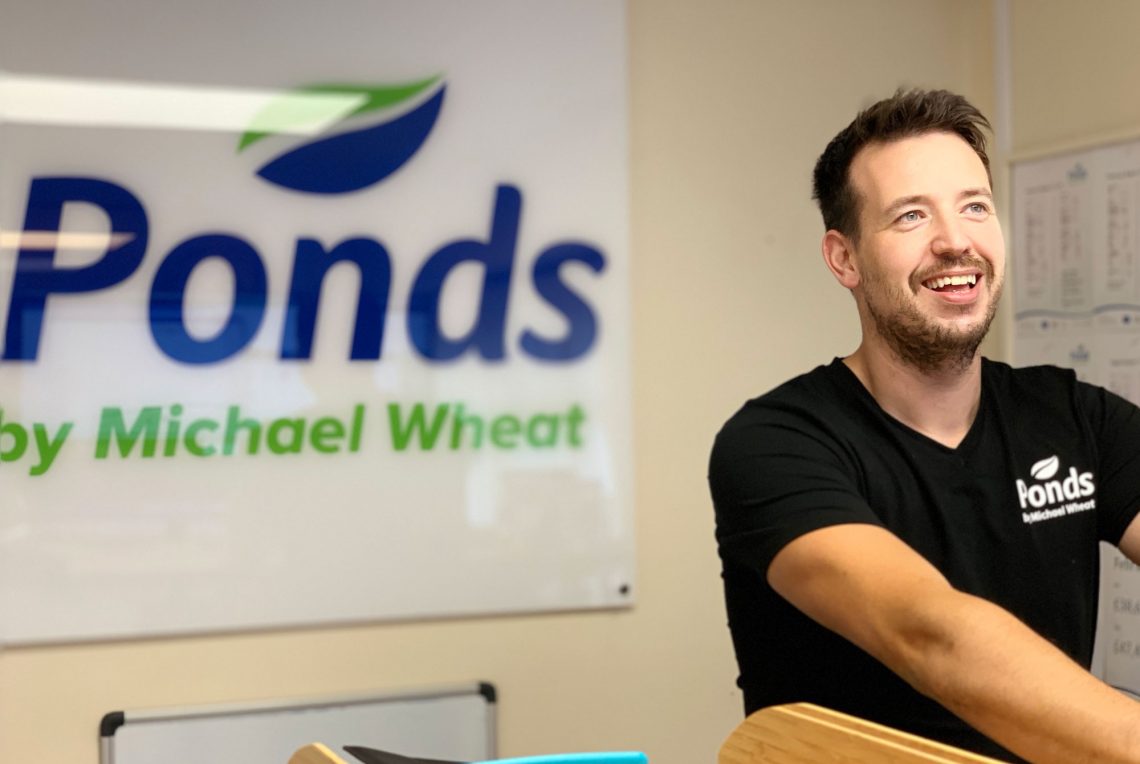 Our company vision
Here at Ponds by Michael Wheat, we aren't just about "digging holes".
Our company vision is to:
create a community;
grow our business so we are recognised as a national company;
be a centre of excellence for our culture and team; and
be known as a training organisation as well as installers.
By the end of 2021, every team member will be paid more than any like-for-like Job in the country.
---
Our 12 Company Values
Attitude: Having a good positive attitude is infectious. We expect everyone to arrive at work with the right attitude.
Quality: Everything the company delivers should ooze high end. Everything from emails, to client interaction, to dealing with snagging should be an enjoyable experience for our clients.
Support & Mentoring: Helping each other is not just the right thing to do for the business, it's the right thing to do as human beings!
Learning: Learning every day is the cornerstone of good mental stimulus. If we can keep learning, we can keep growing. The more we divulge in knowledge about our jobs the more efficient we can be.
Fun: Yes, we're at work, but that doesn't mean we can't have fun. This should never slow down the productivity but aide it by being an enjoyable experience for us the team and for the client.
Respect: Respecting each other's personal boundaries is essential in a healthy environment. We want to have fun but let's make sure we are respectful!
Productivity: Delivering tasks efficiently on time is always our goal. When this happens, everyone benefits. Clients are happy, the team feel accomplished. More jobs finished on time – more staff treats!
Family: Family is everything. Making sure you take all your holiday is important; we want you to spend time with your family. The reason we are all doing this is to support our families and have more fulfilment in our lives.
Appearance: Dressing smartly and clean shows the clients we care about every detail. Clean self, clean mind equals maximum efficiency.
Progression: Our goal is to get every member of the team to the highest earning position that can be achieved as quickly as possible.
Ambition: We have many visions that we want to live up to. To achieve these goals, they come hand in hand. To do one the other will happen. Focusing on the company being productive and achieving its short-term goals will help us achieve our long-term ambition.
Time keeping: They say the way you do anything is the way you do everything. Starting the day arriving to work early sets the day off right! It also shows respect for everyone in the business by showing them you value their time!
---
Company Structure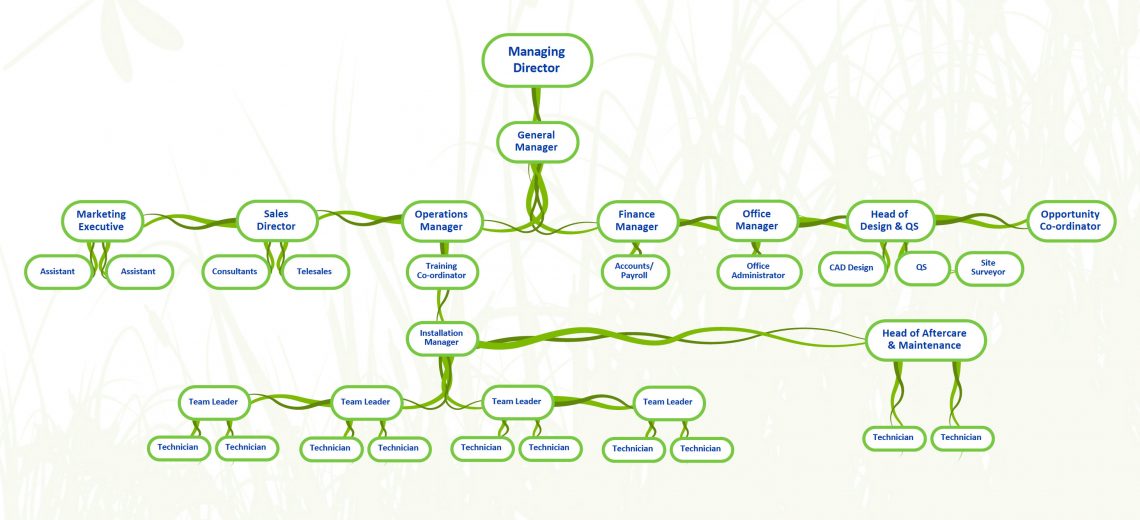 ---
Meet the Team
Client Response, Pricing & Design Team
Tori Magee, Sales Manager
Tori helps with the general running of the office and works closely with clients to get them to get their dream project. She also works closely with Tim and Russell, our pond consultants, on communicating with clients. A keen animal lover, Tori has spent a lot of time travelling – visiting India, the south of France, Nepal and Spain. She even got married in Indonesia.
Sarah Allan, Office Manager and Aftercare Co-ordinator
Sarah and Tori work on booking in consultations. They are also a great sounding board when enquiry calls come into the company, helping clients get their dream end project. Sarah is a keen roller derby competitor and LOVES to win. She also has a degree in Contemporary Performance.
Sheetal Mehta, Finance Co-ordinator
Sheetal helps to make the transaction of paying as simple as possible. She also helps Michael in setting budgets so the company can continue to grow. She monitors cashflow, manages payroll and develops strategies that work to minimise financial risk. She enjoys spending time with friends and loves cooking, baking and swimming.
Ashleigh Bird, Marketing Assistant
Ashleigh helps get the message out there so we can spread the word about better ponds for you. She graduated in 2020 with a degree in Media & Communication, even throughout Covid-19. Ashleigh has also just taken up running and unfortunately, she is a Derby fan, but no one is perfect.
Samantha Coy, Project Co-ordinator
Sam works alongside Mark, our Project Manager. She organises all logistics, deliveries, the on-site team and Mark himself! Sam enjoys doing endurance events and is also a keen reader.
Tim Cutting, Pond Consultant
Tim ran his own design and landscaping company for over 12 years and has a vast knowledge base when it comes to design. Before setting up his landscaping business, Tim worked as a consultant for an international IT company. He has a lot of hands-on experience and loves being on a digger. Tim is a huge rugby fan.
Russell King, Pond Consultant
Russell ran his own garden design company for over 20 years and has a vast knowledge base when it comes to design. He also worked with some blue-chip companies in managerial roles. Russell, just like Tim, is a huge rugby fan.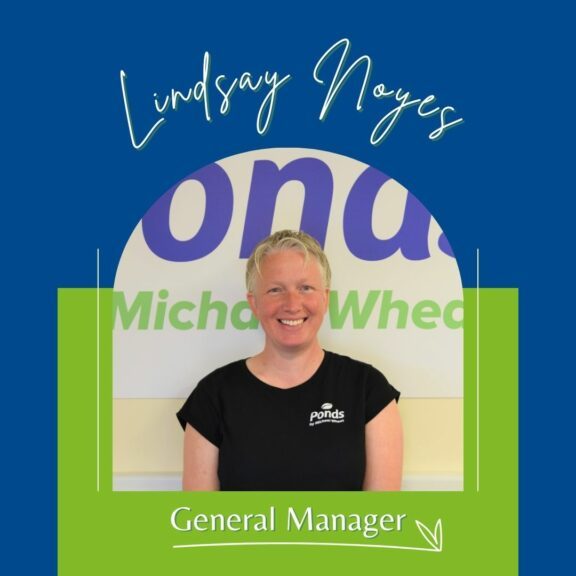 Lindsay Noyes, General Manager
Part of Lindsay's role involves costing all the projects to ensure consistency. She has over 10 years experience in building and designing ponds. She also puts together the work packs, ensuring we deliver our projects every single time.
Leah Assimacopoulos, CAD Designer
Leah brings all our ideas to life with 3D drawings so clients can see exactly what they are going to get. She also has her own artistry business and is one creative individual. Leah loves spending time with her dog, Barney.
Divita Hussain, Lead Designer
Divita is our inhouse designer, working on 2D and 3D renderings. She works very closely with the sales team, pricing team and on-site team. She's originally from Coventry, she's a henna artist and she has two house cats who would love to come to work with us too!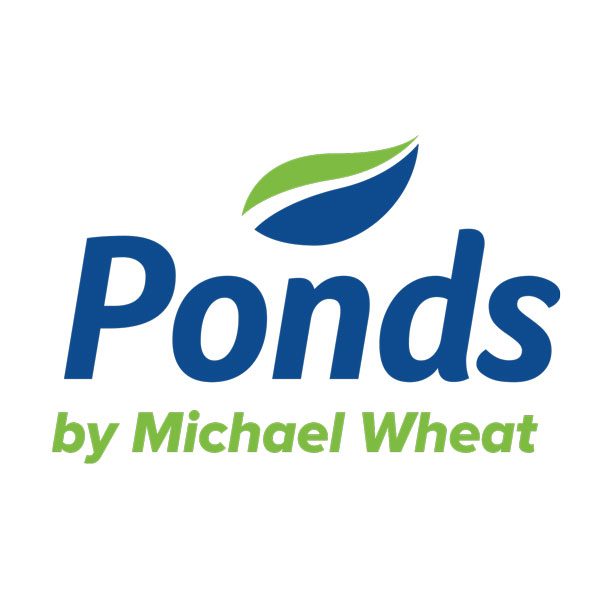 Mark Stevenson, Project Manager
Mark's worked all his life in landscaping and has a degree in Horticulture. He supports all the company team leaders in creating our amazing projects.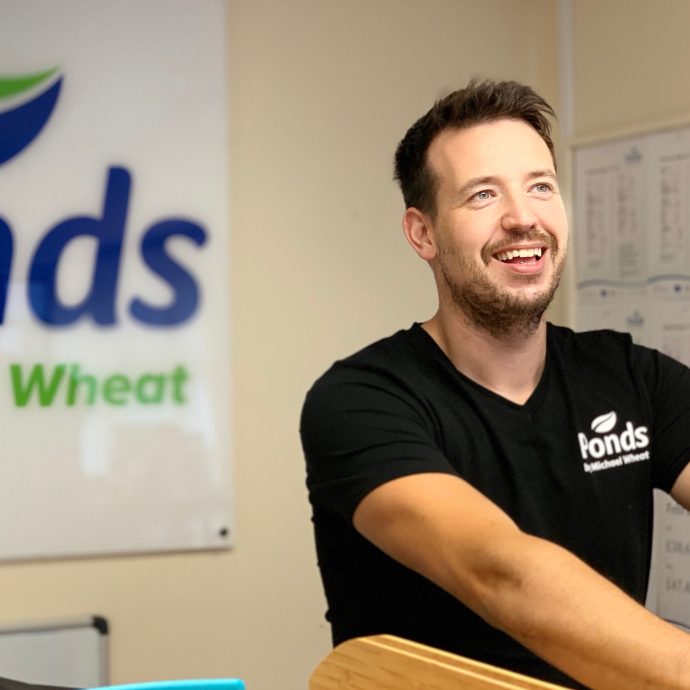 Michael Wheat, Creative Director
Michael is the founder and proud owner of Ponds by Michael Wheat. He spends his time creating processes and supporting his team to deliver the high-end service he expects. He's also a huge LCFC fan.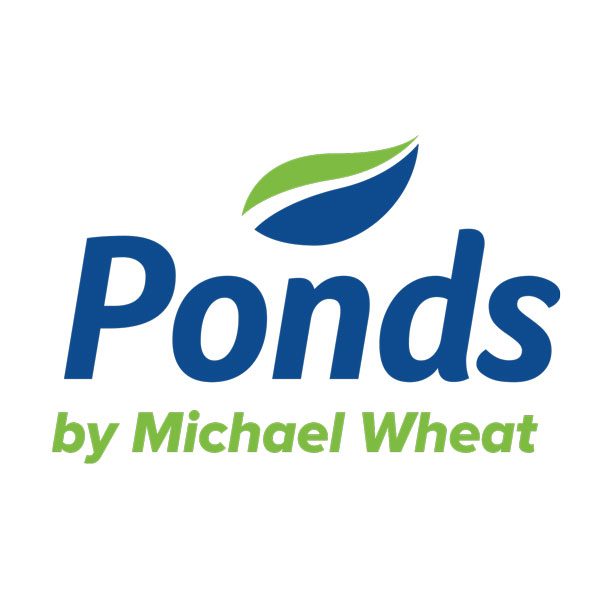 Gemma Wheat, Team Liason
Gemma, Michael's wife and business partner, helps behind the scenes. She supports the team thoroughly, ensuring perfection every step of the way! She is also a qualified beautician so appreciates beauty in everything!
World-class Installation, Aftercare and Maintenance Team
Andy King, Team Leader
Andy hasn't been with us for too long, however in that time he has shown handwork, dedication and promise! He's been promoted to a team leader and is doing brilliantly at the role! As a former in the Royal Navy, he knows how to lead a team!
Gavin Bates, Team Leader
Gavin or Gav as he's affectionally known is a product of the companies promoting from within. Landscaper by trade delivers work to a high standard.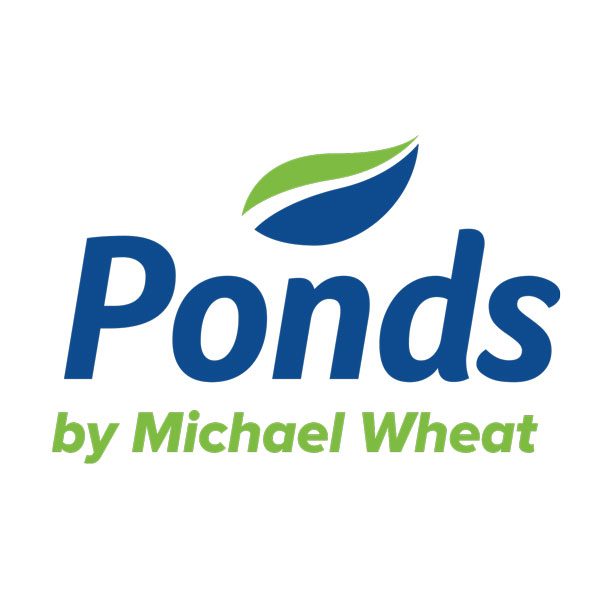 Connor Wright
Sam Garbett
Dale Morris
Mark Robinson
Matt Parnaby
Mark Allen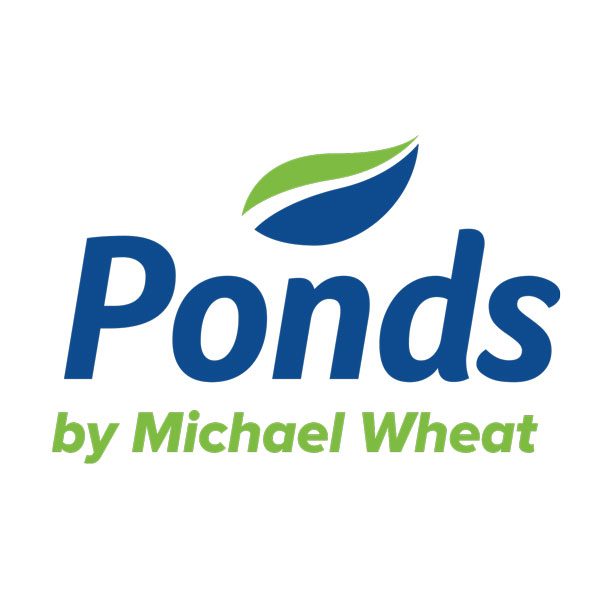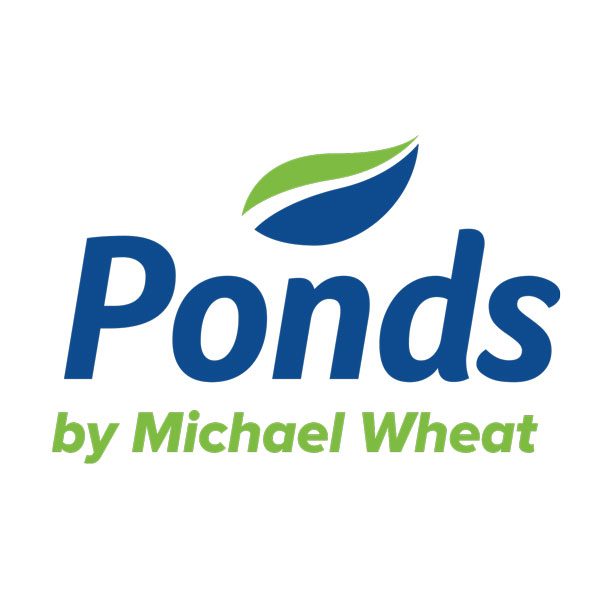 ---
Join our team
Onsite Team Vacancies
We have no vacancies right now.
Office Team Vacancies
We have no vacancies right now.