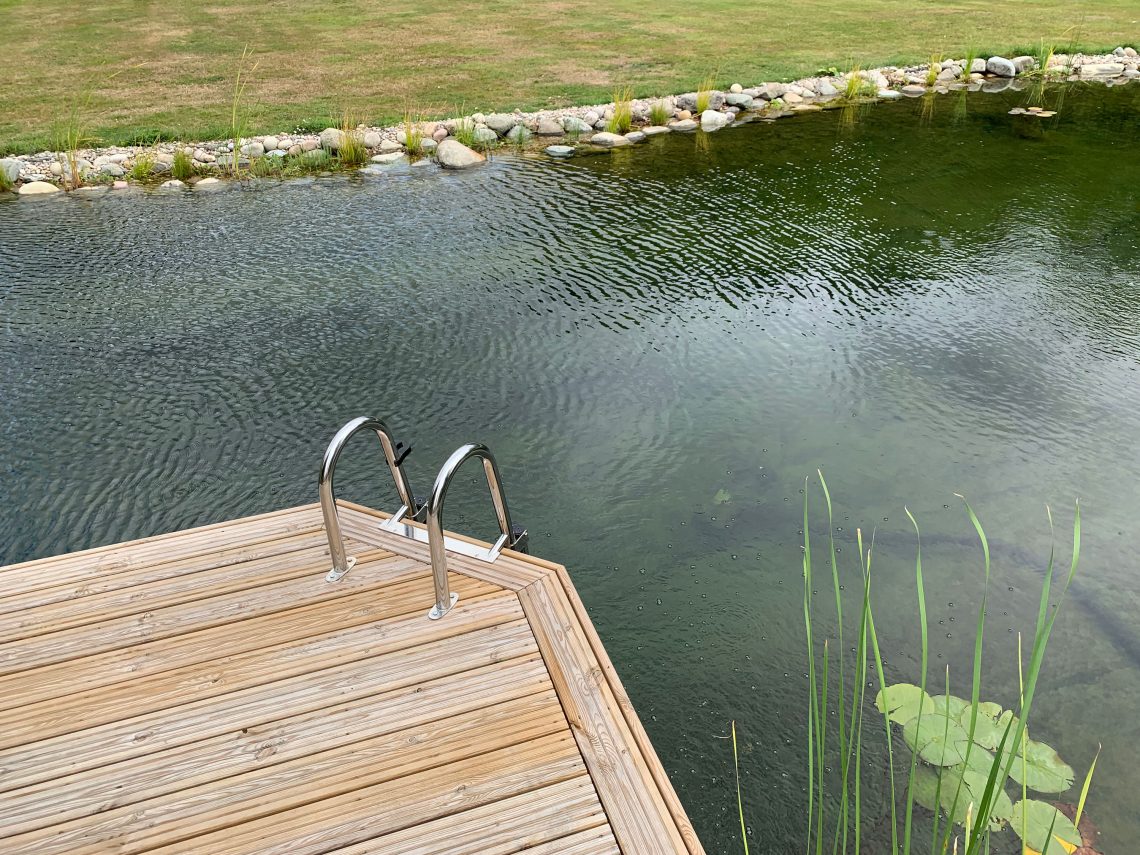 Feel rejuvenated by clean, natural water
You can put your home on the waterfront. And you won't need to pack your bags and move house. There's a much easier way. With a natural swimming pool that brings the water to your home.
Have you ever wanted to live by the lake, enjoying summer from the comfort of your own garden? All you'll have to do is enquire now.
We can transform the empty space in your garden into a place where you can be at one with nature and create memories that last a lifetime. Your friends and family will be excited every time they come to visit.
Now picture this…It's a hot day. One of those where you can't escape from the heat no matter how hard you try. Being able to jump into the cool, refreshing water of a Swimpond in your back garden.
There's no beating that.
Why choose a Swimpond?
Well, you might be split between the decision of a swimming pool or a Swimpond…
Or maybe you've been planning for a pond and wondered what it'd be like to swim in it…
OR you might already have a pond or a swimming pool, but you've stumbled across Swimponds and want yours converted.
If you relate to any of these…
And if you don't want a big blue rectangle ruining the space in your garden…
That needs year-round treatment to stay clean and safe to swim in.
But instead…
You'd prefer a natural swimming pool that seamlessly flows into the countryside and blends into its surroundings…
Creating a beautiful place for you, your friends, and your family to enjoy.
Where you won't have to worry about:
• Expensive heating bills.
• Harsh chemicals filling your pool.
• Or weekly labour and maintenance costs.
If that all sounds good to you, then you'll never regret your investment into a swimming pond.
How can swimming in a pond be clean? And won't it be too cold to swim in?

We'll be able to answer both…
You see, a swimming pond is naturally filtered through plant life and a filtration system.

The water is crystal clear and will leave you feeling cleaner after swimming than any chlorinated pool would.

And then there's the temperature…
There's really no need for expensive heating (although it is an option if you'd like it).
In the summer, Swimponds generally sit between 24-26 degrees.
And we can't deny that in the winter and autumn, they do get cold.
Although we've still had clients tell us they've swam in it every single day!
But no matter how cold it gets, you will never have to cover it for half the year as you would with a pool…
A Swimpond will remain a beautiful part of your garden year-round.

Pond Design Process
Now, we don't just build swimming ponds. We design them exactly to your description. Whether it's a natural or formal design, we plan every detail down to the last pebble. The design cost for swimming pond projects is £1,797.
Here's what we'll do for you…
Plan your pond
Our consultants sit down with you to find out exactly how you want your pond to look, factoring in things like:
How much you want to invest
The layout of your garden and how the pond will best fit into the space, during the survey
What landscaping features you might want
Choosing a time-frame that best fits your schedule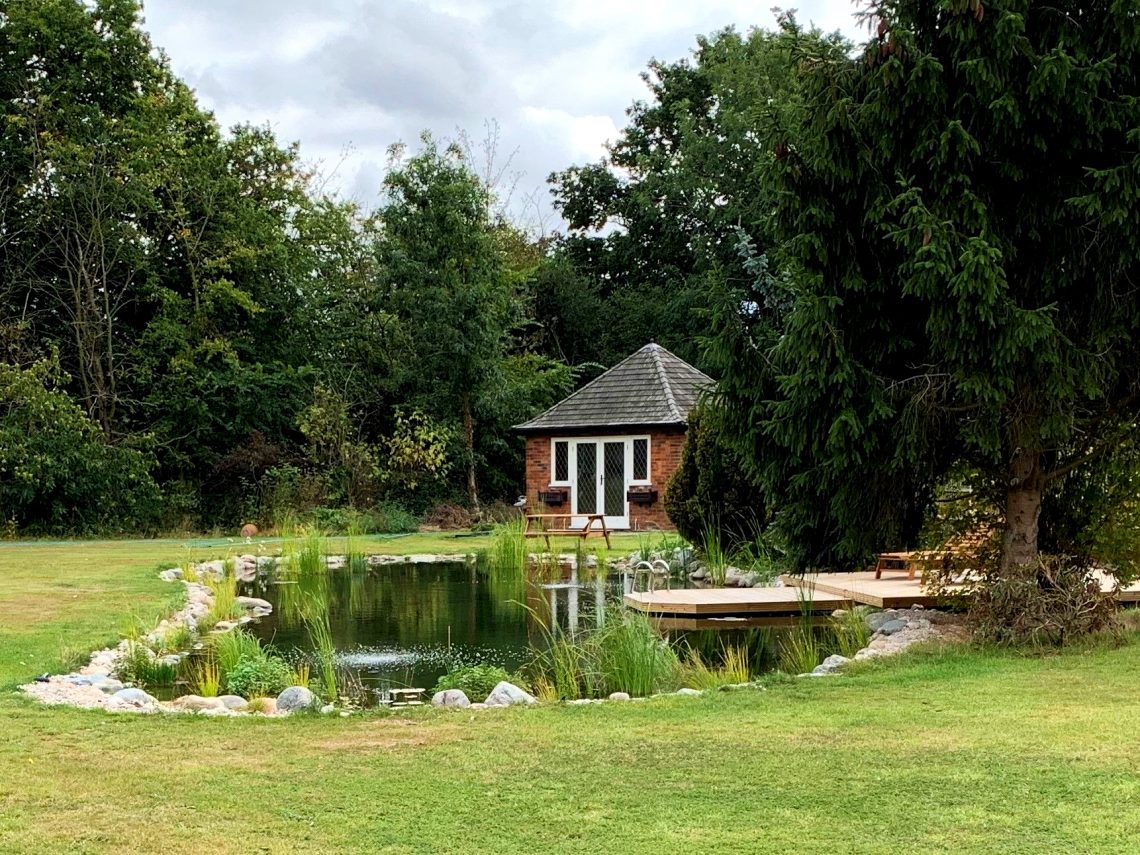 Pond Build Process
Once you're satisfied with the design process, we move on to the next stage.
As well as building your pond, we always aim to deliver a smooth and hassle-free experience for our clients.
You can sit back, worry-free, knowing that your project is in the hands of an expert team who have already built hundreds of stunning ponds.
There won't be any inconvenience to you.
Pond Aftercare
Have you had construction work in the past you were unsatisfied with? Have you ever had any work that's gone wrong shortly after it was finished, only to realise the labourers responsible were long gone?
Then let us put you at ease. We don't just install your pond and disappear:
All the equipment we use comes guaranteed through us
We come back out to perform guarantee repairs and replacements free of charge
We provide your first maintenance visit free with every install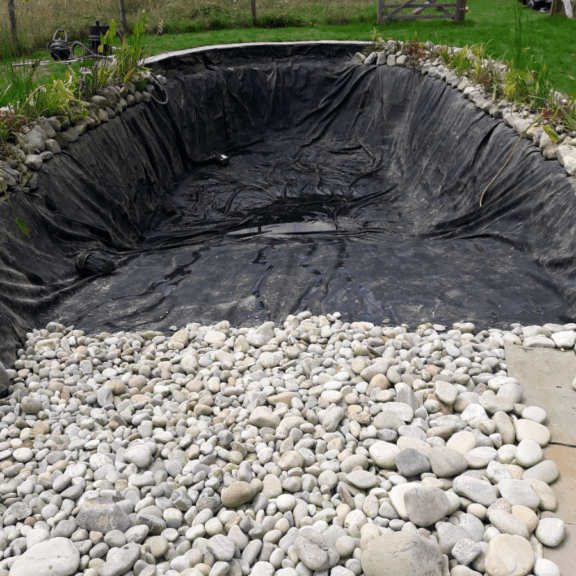 Lifetime Guarantee
The most common issue which ruins a new pond is a leak. So our pond liners are guaranteed for a lifetime. If it ever leaks, call us and we'll come straight out to fix it for you, free of charge.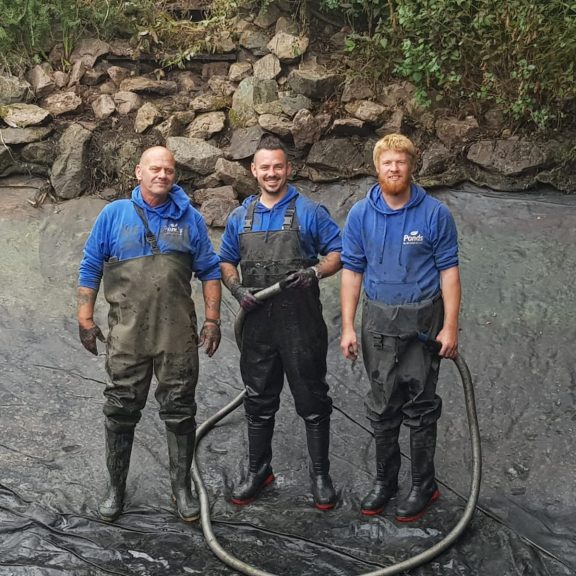 Pond maintenance
We offer a variety of maintenance packages to cater to every pond. Make sure you'll never have to worry about pond cleans or faulty filters again. See our pond maintenance packages ›
Latest Swim Ponds We've Built
We've built natural swimming pools ranging from £25,000 up to £350,000 and on each one we've worked to the highest possible standard of service and installation.
You won't have to sacrifice anything in quality.
Let's Get Your Pond Started
Fill in the form to get a call from one of our pond consultants.
We will use and protect your data in accordance with our Privacy Policy.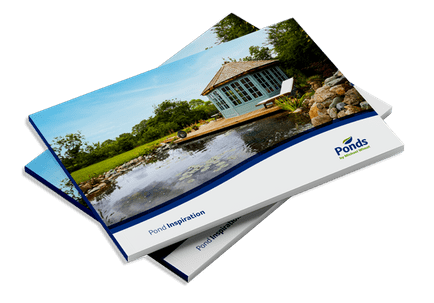 Not ready for a consultation?
Grab your free pond inspiration guide now.