In any pond, rocks of some kind are essential. They're perfect for creating a natural surrounding for your pond, effortlessly blending it into your garden… or, at least, it might seem effortless.
The reality is that you must source, clean and position each and every stone, to achieve a flawless natural look.

So, if you're planning for a pond, here are some things you should consider when it comes to shifting the stones.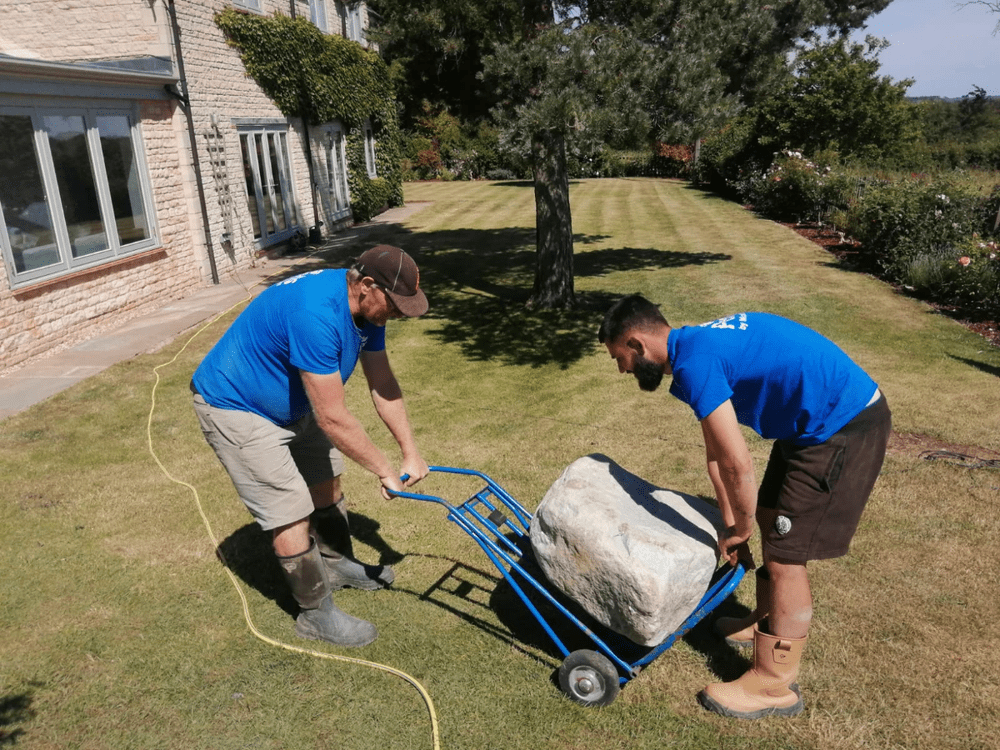 How Do You Want Your Pond To Look?

You might not like the idea of a natural-looking pond. Instead, you'd prefer a formal pond with slabbing. Or maybe a high-contrast edging that sets the pond apart from its surroundings. The choice is up to you.

It's important to take in the entire look of your garden when considering this, not just the look of the pond. This is the very reason why we have a design stage. Every pond we build is first designed digitally to show our clients exactly how it will look and fit into their garden.
What Size And Shape Stones Are Best?

This depends on how you want your pond to look.

If you're going for an architectural feel with slabs, you will need to cut them precisely to your pond's measurements.

For natural-looking ponds, a mixture of different shapes and sizes is best. (After all, you don't want it looking like rubble was dumped around the edge of your pond!)

It is important to remember that jagged stones can damage the liner, and smooth stones will be slippery when wet.
Should You Put Stones In The Bottom Of Your Pond?

This will depend upon the type of pond you want and your budget. Here are some things to consider when choosing:


Small rocks provide good anchorage for plant life;
They will give your pond a natural look;
It creates an environment where beneficial bacteria can grow;
The stones can trap waste, creating a sludge that's challenging to remove;
They provide anchorage for algae just as much as any other plant. You need to regularly clean them. Otherwise, they'll become hidden beneath algae.
So, if you plan on having a shallow wildlife pond, I recommend adding pebbles to the bottom. Keep them clean, and the result will be a stunning water feature you can show off in your garden.

But if you're building a pond for fish, you should avoid it. The pond will need more regular maintenance, plus fish stand out better in black-bottomed ponds.
Why Should You Clean Your Pond Rocks?

No matter if your rocks come from a garden centre or a dumpster truck, you should scrub clean any rocks that go near your pond (especially if they're going in your pond). Skip this step, and you will risk bringing contaminants into your pond, which could potentially be harmful to its inhabitants.
What Else Is Worth Knowing?

All in all, there's a lot to consider when using rocks in your pond (more than you might realise). Plus, there are more uses I haven't mentioned, like:


Creating natural-looking water features;
Building steppingstones; or
Using artificial rocks.

But if there's one takeaway from this post, it's this: before you commit to a pond build, plan out exactly how your pond will look and what materials you'll need prior to everything else.

After all, you wouldn't plan an extension to your home without proper planning. Why should a pond be any different?
Get Your Own Pond